Pipe Clamps
Pipe clamps offered in this section are designed for support and attachment of pipe to structural members. A wide range of pipe clamps are available for various applications.

Materials
Carbon Steel is used in the manufacturing of riser and pipe clamps. Stainless Steel and other materials are available.

Finishes
The standard finishes for mechanical supports are plain steel (oil coated) sometimes referred to as black and Electro-Plated Zinc (ASTM B 633 SC3). Hot-Dip Galvanized After Fabrication (ASTM A 123), Red Primer, Plastic Coating, Dura-Green® and other special coatings are available upon request.

Note: Due to the design of some products, (threads, connecting hardware, swivels, etc.) items may or may not be uniformly coated with special finishes. In some cases, the hanger itself may be coated, however, the hardware may be supplied Electro-Plated, Copper Plated, or in Stainless Steel.


Recommended Torque (Pipe Clamp Hardware)
| | | | | | |
| --- | --- | --- | --- | --- | --- |
| 1/4"-20 | 5/16"-18 | 3/8"-16 | 1/2"-13 | 5/8"-11 | 3/4"-10 & larger |
| 6 ft/lbs (8 Nm) | 11 ft/lbs (19 Nm) | 19 ft/lbs (26 Nm) | 50 ft/lbs (68 Nm) | 65 ft/lbs (88 Nm) | 75 ft/lbs (101 Nm) |
Approvals (as noted)
Items in this section are Underwriters' Laboratories Listed, comply with Federal Specification WW-H-171E or Manufacturers Standardization Society MSS SP-69 & SP-58. All pipe hangers and supports in this section are sized to fit schedule 40/80 pipe unless otherwise noted. Some steel items may be specially fabricated to fit other pipe diameters i.e. ductile iron, cast iron, etc. Select pipe O.D. from charts on pages 199 thru 204.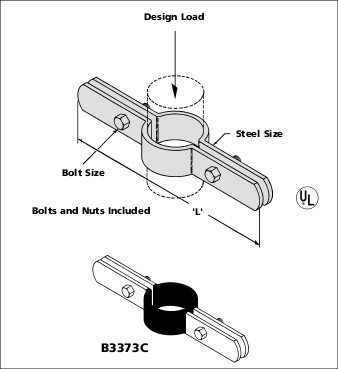 Material: Steel (Stainless steel available)

Standard Finish: Plain or Electro-Plated, Dura-Green® or Hot-Dip Galvanized

Service: Designed for supporting and stabilizing vertical pipe runs. Clamp is fitted for steel pipe and preferably installed below a coupling or shear lugs.

Ordering: Specify part number and finish.

Approvals:Underwriters' Laboratories Listed for Bolt Size B3373-3/4" thru B3373-8". Complies with Federal Specification WW-H-171E Type 8 and Manufacturers Standardization Society Bolts and Nuts Included 'L' MSS SP-69 & SP-58 Type 8.